Get ready to raise your spirits with these 9 tasty Halloween cocktail drinks with bourbon. These festive drinks are perfect for your next Halloween party and are sure to cast a spell on your taste buds!
Just in time for Halloween, I have compiled a list of 9 Halloween Cocktails with Bourbon that are great to serve at your Halloween Party. Bourbon has flavors of vanilla, oak, and caramel which is the perfect way to celebrate the Fall season.
Whether you are looking for spooky cocktails or festive cocktails, these delicious drinks are so much fun and are sure to put you in the mood for all the tricks and treats of Halloween.
Bourbon Apple Cider Cocktail
This Bourbon Apple Cider Cocktail is a delicious drink that we love serving for our Halloween festivities. It's made with orange juice, lemon juice, and apple cider and is slightly sweetened with honey.
It is the perfect cocktail for all of your fall festivities because it can be either served warm in a crock pot or cold in a punch bowl. Add some dry ice to your punch bowl to make an extra spooky witch's brew!
Easy Bourbon Apple Cider Cocktail Recipe (Hot or Cold)
This easy bourbon apple cider cocktail recipe is the perfect drink for Fall. Served either hot or cold, this boozy apple cider drink is a great cocktail for a crowd.
Check out this recipe
Dragon's Fire Cocktail
Dragon's Fire Cocktail is served up by Aspiring Winos with the perfect balance of sweetness and spice. Made with both bourbon and rum and flavored with cranberry and peach fruit juices, this simple cocktail is garnished with lime slices and maraschino cherries. Cheers!
Refreshing Dragon's Fire Cocktail
Our Refreshing Dragon's Fire Cocktail is the perfect mix of sweet, spice, and a smooth after taste of rum and bourbon.
Check out this recipe
Blackberry Bourbon Cocktail
Mitten Girl has perfectly crafted this Blackberry Bourbon Cocktail. Fresh blackberries are muddled with orange juice and then mixed with bourbon, honey syrup, ginger liqueur, and orange bitters.
Garnished with a fresh orange peel or blackberry, this is the perfect Halloween cocktail to serve up with a scary movie!
Blackberry Bourbon Cocktail for Halloween
This blackberry bourbon cocktail is perfect for getting you in the Halloween spirit bringing maximum taste and spooky color with easy to find ingredients.
Check out this recipe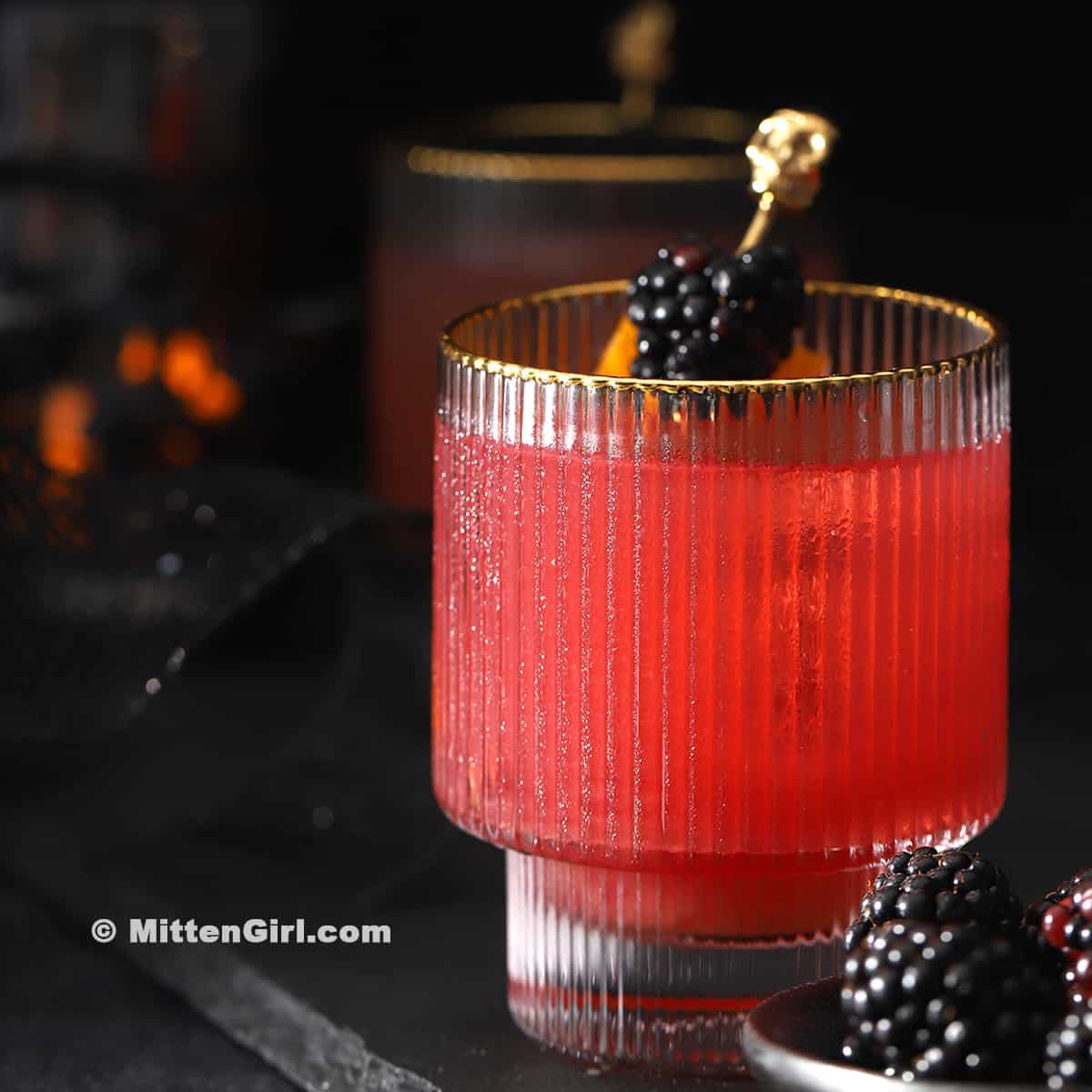 Apple Cider Punch with Bourbon
A festive Apple Cider Punch is all you need to make your Halloween party a hit. Made with apple cider and ginger beer, this delicious Fall cocktail is perfect to serve a crowd. Garnished with fresh apple slices and cranberries, this festive punch is sure to please your guests.
Apple Cider Punch with Bourbon
This festive apple cider punch with ginger beer, apple cider and bourbon can be made in batches to serve to a crowd or as a cocktail.
Check out this recipe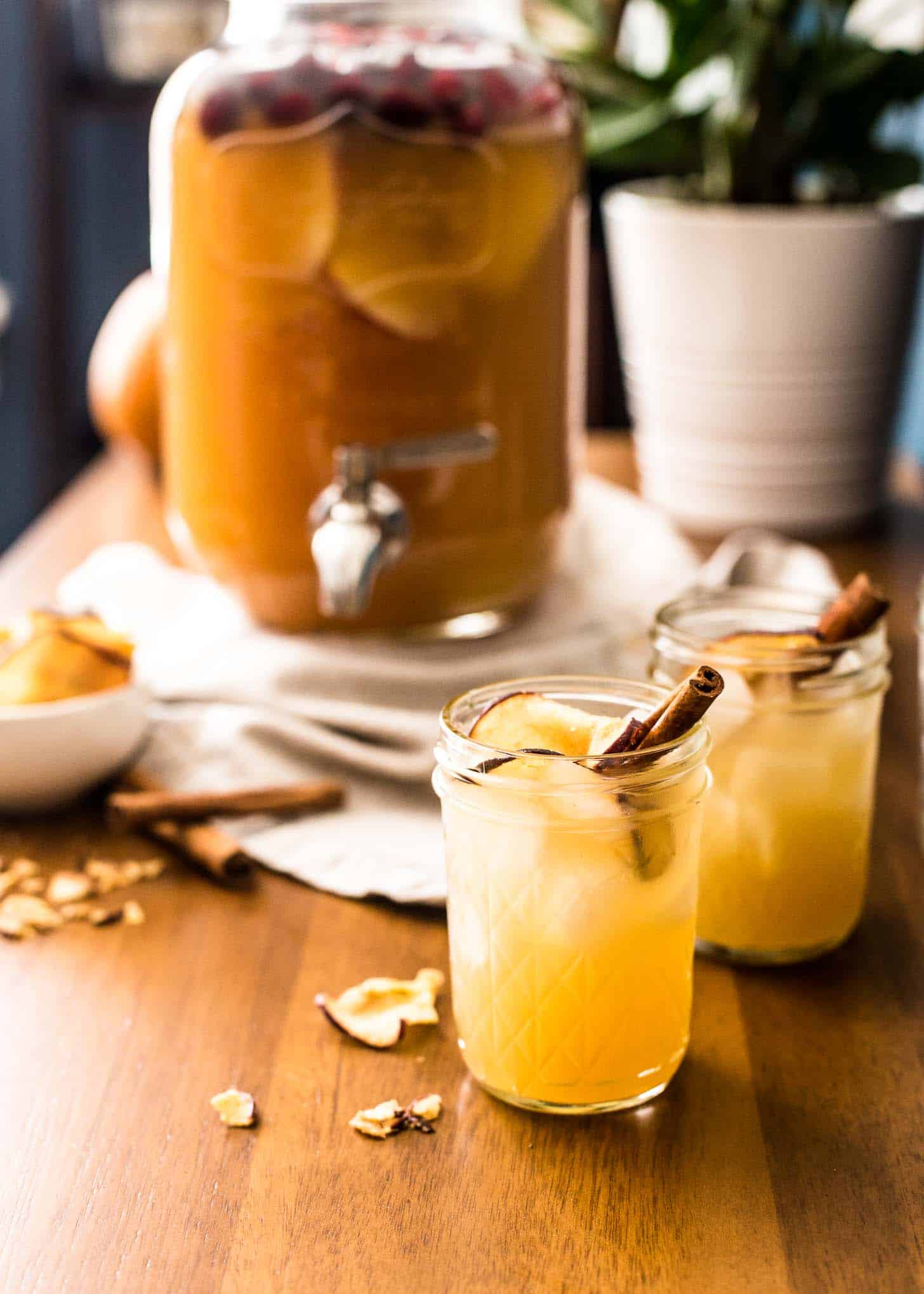 Kentucky Mule
This Kentucky Mule by Occasional Cocktails is a fun twist on the classic drink. This festive drink is made with Kentucky bourbon and fresh lime juice. Serve with a sprig of mint and then you are ready to party!
Kentucky Mule Cocktail
Try out this kentucky mule cocktail if you love the classic moscow mule, but want to try a whiskey based drink.
Check out this recipe
Bourbon Apple Ginger Cocktail
A sophisticated cocktail that makes the most out of apple season, this Bourbon Apple Ginger Cocktail by Garlic and Zest has the perfect zing to it. Fresh ginger is muddled with birch syrup or maple syrup and then mixed with both Bourbon and Apple Brandy.
Finished off with fresh lemon juice and apple cider and then shaken in a cocktail shaker. This icy cold cocktail is served beautifully in a coupe glass.
Bourbon Apple Ginger Cocktail
This seasonal ginger bourbon smash cocktail with apple cider and brandy makes a refreshing drink. A sophisticated cocktail with zing.
Check out this recipe
Hocus Pocus Inspired Cocktail
I love a themed cocktail for a party and this Hocus Pocus Inspired Cocktail by G and M Kitchen is the perfect spooky drink to serve.
A pecan maple and brown sugar simple syrup is the secret ingredient used to sweeten this Halloween drink. Don't forget the gold edible glitter for some extra pizzaz!
Hocus Pocus Inspired Cocktail - I Put A Spell On You
This Hocus Pocus-inspired cocktail, I Put A Spell On You, is the perfect magical Halloween cocktail to celebrate the witchy season!
Check out this recipe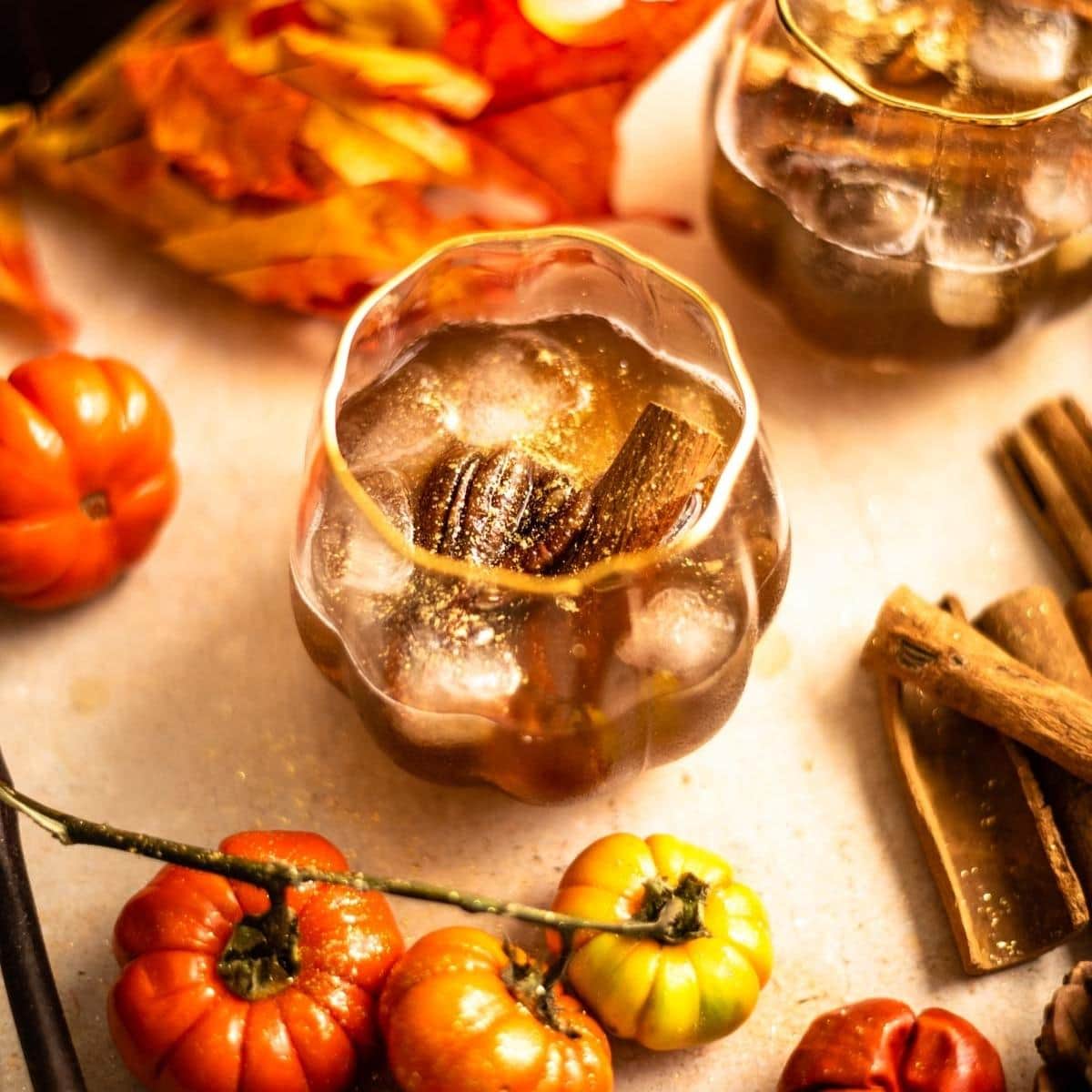 Smoky Maple Bourbon Old Fashioned
Celebrate all of the delicious flavors of the season with this Smoky Maple Bourbon Old Fashioned by Sip and Savor the Seasons.
This Halloween cocktail is sweetened with maple syrup and then flavored with apple liquid smoke and walnut bitters. Serve in a cocktail glass with an orange peel twist for a Happy Halloween!
Smoky Maple Bourbon Old Fashioned
Indulge in the rich flavors of fall with our smoky maple bourbon old fashion recipe. A perfect blend of warmth and zest in every sip.
Check out this recipe
Sleepy Hollow Cocktail
Nothing says Halloween like this delicious recipe for a Sleepy Hollow Cocktail by Red Wine Dragons. This Halloween cocktail recipe is muddled with fresh ginger and then shaken in a cocktail shaker with maple syrup, fresh lemon juice, cranberry juice, bourbon, and a pinch of cinnamon. Make sure to double strain this cocktail and then serve in a super chilled martini glass.
Sleepy Hollow Halloween Cocktail
Get into the spooky spirit with a spiced Sleepy Hollow bourbon whiskey Halloween drink inspired by all things hauntingly dark and delicious!
Check out this recipe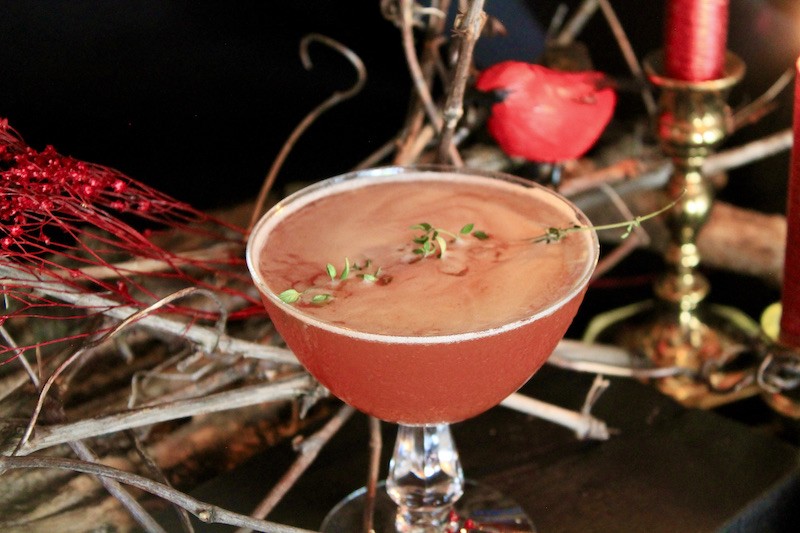 If you ever don't recognize a tool or skill that I mention, be sure to look it up in our Glossary of Cooking Terms and Definitions for more information.